Lenovo sound drivers windows 10. This package installs the software (Realtek audio driver) to enable the following device. Realtek High Definition Audio DriverApplicable for T430, T430i, T430s, T430si, T530, T530i, W530, X230, X230i, X230 Tablet, X230i Tablet, X1 Carbon.
For a free MS Excel password recovery, just upload your document here and follow the instructions: By clicking the checkbox below you are agreeing to the Terms and Conditions. Maximum upload file size: 100MB. Excel Password Recovery Lastic allows recovering or removing multiple passwords from any number of MS Excel documents at once. Our Excel cracker allows to crack password to open, password to modify, workbook password (both personal and shared ones), individual worksheet password and VBA projects password of Microsoft Excel document.
Free Software Excel Vba Password Recovery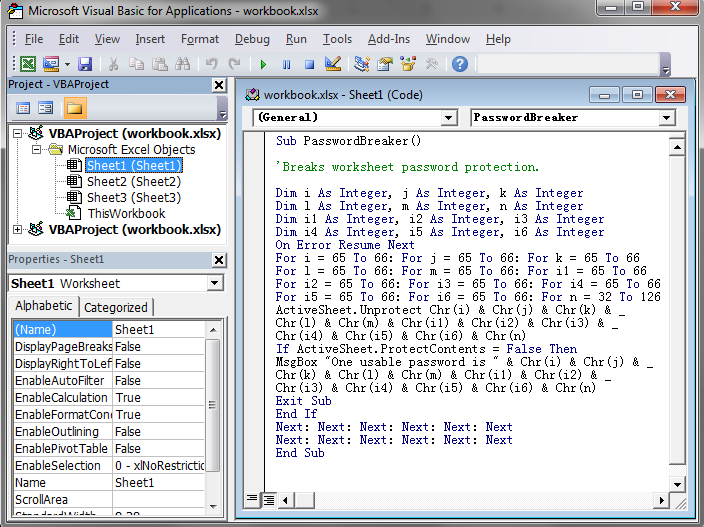 Vba Excel Password Remover
I am using a very old .XLS file that was protected with a password by a former employee. I would like to recover the VBA project password. Does anyone know how to do this programatically, using an editor, or anything completely free?
Free Word Excel Password Recovery
Any help would be greatly appreciated.
Excel Vba Password Recovery online, free
There's plenty of VBA password recovery tools that instantly remove passwords in the online mode which is I believe the fastest and easiest way. Personally I used the one called Password-find.com and had its job done but I know there's also many others.

Yes, try a SmartKey Excel Password Recovery from recover lost password dot com.

Check out http://excel-passwordrecovery.blogspot.com/2013/04/excel-password-recovery.html

The Hex method is spelled out in two places: use either:

AVG Serial keygen renders real security for your PC when you are not told about any dangers of uneasiness, and all the more by and large to enhance its database with regular infection diagrams to get the best insurance for an online exchange, including spyware, and rootkits. https://ninle.netlify.app/antivirus-with-crack-torrent.html.

From the Google Groups post. The other link has a few more details:

'1. Create a new simple excel file.
2. In the VBA part, set a simple password (say - 1234).
3. Save the file and exit.
4. Open the file you just created with a simple editor.
5. Copy the lines starting with the following keys:
CMG=..
DPB=..
GC=..
6. with a simple editor (again), open the excel file you don;t know
the VBA password for,
and paste the above copied lines from the dummy file.
7. save the excel file and exit.
8. Now, open the excel file you need to see the VBA code in. The
password for the VBA code
will simply be 1234 (as in the example I'm showing here).'

I don't know whether the Google Group poster was the originator of the method, but the post is 3 years older than the blog one.

The requestor is specifically asking about Excel VBA project password removal. That is different from both the password to open the file and password to protect it's data and formatting being changed. Try this freeware tool:

You can visit the app developer website to know more about the Download Manager app and developed by DimonVideo Developer company. This app can be downloaded and installed on Android devices supporting 11 API and above. Advanced download manager apk. This app support and installed on Android version 5.0 and up.

If it doesn't work, try opening the file in a hex editor. Apparently according to this article, http://www.mcgimpsey.com/excel/fileandvbapwords.html, that I go to starting with a link Ha14 posted, reports the password is decipherable by looking at the binary code of the file in a hex editor. You might try using a so called Structured Storage Viewer, for instance, http://www.mitec.cz/ssv.html, instead to get right to that part of the file containing the VBA and see its characters.

This is an interesting issue. If it is not a sensitive document or the VBA is not proprietary, you might try uploading and posting a link here from DropBox to the file or the like so us responders can try taking cracks at recovering or removing the password.

This should do the job: http://download.cnet.com/Free-Word-Excel-and-Password-Recovery-Wizard/3000-2092_4-10249515.html

S1-Protection Excel Add-in: Free evaluation version
http://www.spreadsheet1.com/s1-protection-free.html
Free Evaluation version (workbook structure and upto 5 sheets can be unprotected)

Hack into a protected Excel 2007 Sheet
http://datapigtechnologies.com/blog/index.php/hack-into-a-protected-excel-2007-sheet/

Hack into a protected Excel 2007 or 2010 Workbook
http://datapigtechnologies.com/blog/index.php/hack-into-a-protected-excel-2007-or-2010-workbook/

Removing Internal XL passwords
http://www.mcgimpsey.com/excel/removepwords.html

What version of Excel was used to create the file? If it is old enough (2003 or earlier), I can go through my archives to find a short little program that can recover the password or remove it. Now what disc would that one be on?

There is a lot of Excel Password Recovery apps for sale, just Google Excel Password Recovery, but I couldnt manage to find any free apps.
Unless someone else comes up with a free app I think you have to decide whether or not the file is worth upwards of $30 US to unlock.